Here's some stuff people made for me!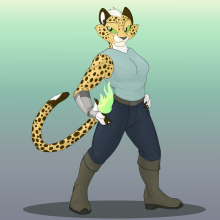 Jade, by Foxenawolf
Redd commissioned this lovely piece of Jade by the talented artist Foxenawolf (Who does her own comic with clean talking animals you can find at http://overlordcomic.com/ )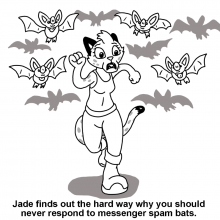 Spam Bats, by Mark Stanley
So in some world-building on a forum, it became canon that past Kassans used messenger bats to deliver messages in the way humans once used carrier pigeons. Mark Stanley (Who does the amazing comic Freefall http://freefall.purrsia.com/ ) inspired himself with the joke of "Spam Bats" and now I'm eternally grateful.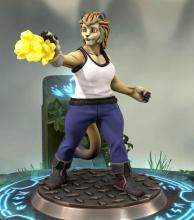 Heroforge Jade, by Rascal
I managed to dig up my very first fan art created by Rascal! They recreated Jade as a heroforge miniature and did a darn good job!
You can even play with the 3D Model over at the site, assuming that the site still exists in whatever dystopian future has unfolded after the time of this posting.